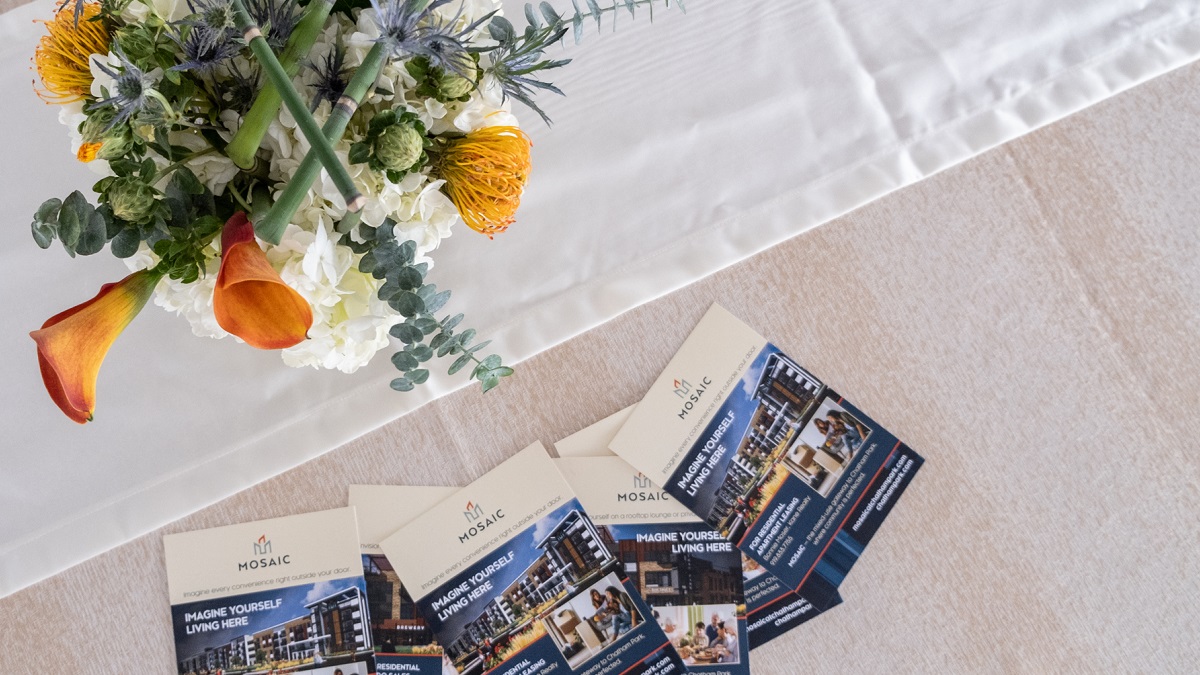 "MOSAIC is poised to invigorate residents and patrons alike with a dynamic, vibrant environment that offers shopping, dining, working, learning and living opportunities within a well-designed, purposefully-planned and aesthetically-pleasing destination." -Kirk Bradley, MOSAIC Developer
Hundreds of community members, developers, investors and future business owners joined the MOSAIC Development Team in officially celebrating the construction launch of this 136-acre mixed-used development, serving as the gateway to Chatham Park, a 7,100-acre live-work-play-learn community in Pittsboro, NC.
Attendees were greeted by Tommy Edwards & The Bluegrass Experience and later entertained by Northwood High School's a capella group, Pitch Please, who was presented a $1,000 check by MOSAIC to support an upcoming trip to Carnegie Hall.
Comments by Mayor Cindy Perry, Chatham County Board of Commissioners Chairman Mike Dasher, Chatham County Schools COO Chris Blice and State Rep. Robert Reives II focused on MOSAIC's and Chatham Park's positive economic impact. Dasher said, "Projects like this help fund all types of services in Chatham County without burdening our residents."
Chatham Park Developers Bubba Rawl and Tim Smith as well as MOSAIC Developers Kirk Bradley and John Fugo shared their excitement about Pittsboro and Chatham County's future as well as thanked their many partners. Four MOSAIC future tenants were also announced.
Many local vendors made MOSAIC's launch unique, including 39 West Catering, Blossom Florist, Chatham Transit, Fair Game Beverage Co., Tommy Edwards & The Bluegrass Experience, Pitch Please a cappella group, and Trash Talk.
Learn more about this event on Chatham Park's blog or in the Chatham News and Record.
Interested in MOSAIC's progress? Please sign-up here to receive our monthly email. You can also follow us on Facebook and Twitter.