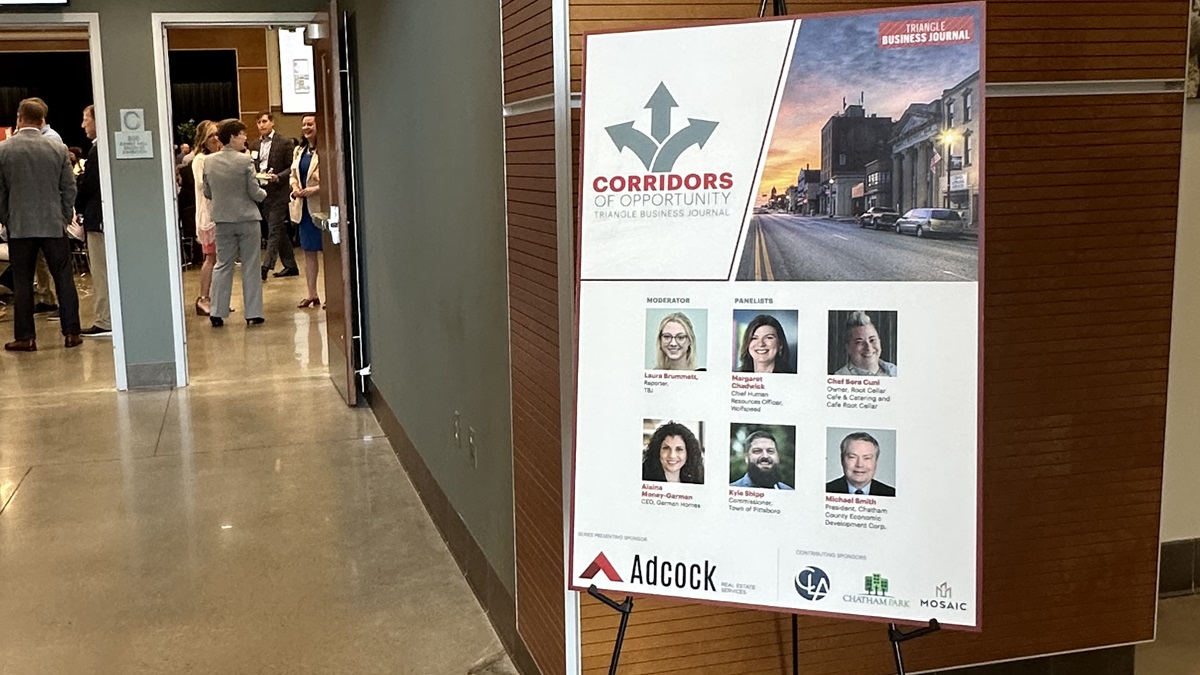 With Chatham County staged for major growth in coming years, four local leaders shared their insights about ways to ensure that the growth is smart and positive for area communities.
Hosted by the Triangle Business Journal, a leading regional business news outlet, the Corridors of Opportunity event held on June 23rd featured panelists Karen Howard, chair of the Chatham County Board of Commissioners; Michael Cline, North Carolina's state demographer; Michael Smith, president of Chatham Economic Development Corp.; and Julian "Bubba" Rawl, co-owner of Chatham Park and Preston Development Company.
MOSAIC and Chatham Park sponsored the event, held at the Chatham County Agriculture & Conference Center, the county's largest multipurpose venue, in Pittsboro. The panelists spoke to a packed house, and social media and the local news media amplified from the buzz from the stage and the audience.
The Chatham News & Record, for example, noted Cline's facts and figures about the county's population. Cline said that growth over the past decade now accounts for 40% of the total Chatham County population. And this growth shows no sign of slowing, as major companies such as Vietnamese carmaker VinFast and North Carolina-based silicon carbide company Wolfspeed plan substantial manufacturing facilities.
Margaret Chadwick, chief human resources officer at Wolfspeed, shared a comment that seemed to sum up the event and the potential for Chatham's future: "There's much more opportunity for collaborations and partnerships than competition."
Of him and partner Tim Smith, Rawl said, "We came to Chatham because of the beauty and the landscape. What really attracted us to Pittsboro region was the downtown and the culture. There's no way to replicate the history here, and it allows us to have an amenity to make Chatham Park a special place."